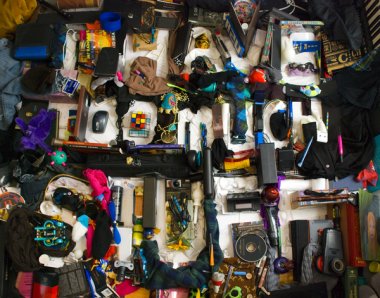 Edited by Patricia Taylor
After two months of doing the 100 Thing Challenge, I've run into some…well…challenges. My initial 97 items have ballooned into 112. It wasn't even until I went through my things in preparation for this article that I noticed how many new items I had actually acquired.
How does this happen? How do we accumulate so much stuff without even noticing? I asked around and did some research and discovered that we are all susceptible to a few common traps.
The Trap of Justification
Whenever we think about making a purchase, there are little justifications we use to convince ourselves the item we want is really and truly the item we need. If you are anything like me the internal monolog of retail rationalizing sounds a little bit like this:
"Do I need it? It's a bit pricey, is it really worth it? Can I get it cheaper? Well, I'm here now and I have that money coming in next week from X, Y, and Z. I deserve a little treat anyway, and I think I'd use it. Imagine all the stuff I could do with it. Yeah, I should get it."
Next thing you know you're bouncing home, purchase in hand, confident you made the right decision and have enriched your life with this new trinket. Fast forward a week or two later, where is that item you were so sure you couldn't live without?? In a closet? In a drawer? Or in the trash?
The Trap of "I Deserve It"
At the beginning of May, around my birthday, two interesting 'stuff' related things were happening. First, I was feeling very grateful that most of my friends were giving me digital gifts, or taking me to dinner or a show for my birthday. Nearly no one bought me physical items that would count towards my list. I felt warm and fuzzy when I thought of how this reflected the support of my friends and family, though part of me suspected it may have actually more to do with convenience since I am notoriously hard to buy for.
I also found myself unable to resist a few birthday purchases. It was so easy to tell myself "well it's my birthday, I deserve it" and buy a new iPhone and other gadgets guilt free.
I suspect this trap of rewarding ourselves with new stuff is a huge contributor to our mass consumption, crippling credit card debts and overstuffed houses and minds. There is nothing wrong with celebrating your successes, in fact doing so can contribute to the overall better quality of life; but what about taking a nice bike ride, having a lazy afternoon or curling up at your favorite coffee shop with a good book from the library. Why not start a habit of rewarding ourselves with experiences rather than things, it's at least as satisfying, usually cheaper and better for the planet.
The Trap of Things as Crutches
Whether it's retail therapy issues, buying things to reinforce identity or being unable to resist a sale, it helps to know the 'why' behind the things you buy. Take some time to do a little soul searching and ask yourself why you keep buying all that unnecessary flotsam and jetsam.
In the last couple months, I have fallen prey to many of these traps and I realize now that I'll have to try a lot harder if I want to keep to 100 items.
My Too Many Items
Clothing

Sun Glasses – Clic Googles
Hat – Fedora
Hat – Fox Tuque
***New*** Hat – Ball Cap
Belt – For Pants
Belt – For Dresses
Shirt – Warm Weather / Spaghetti Strap
Shirt – Warm Weather / Spaghetti Strap
Shirt – Warm Weather / Spaghetti Strap
Shirt – Warm Weather / Tank Top
Shirt – Warm Weather / Tank Top
Shirt – Warm Weather / Tank Top
Shirt – Warm Weather / T-shirt (Fightlinker)
***New*** Shirt – Warm Weather / T-shirt (Firepedia)
Shirt – Warm Weather / Red Jacob T-shirt
Shirt – Warm Weather
Shirt – Warm Weather
Shirt – Warm Weather
Shirt – Button up
Shirt – Cold Weather / Invader Zim
Shirt – Cold Weather / Black
Shirt – Cold Weather / Black
Shirt – Cold Weather / Black and Grey Striped long
Shirt – Cold Weather
Shirt – Cold Weather
Sweater – Lulu Lemon
Sweater – Long & Grey
Sweater – Work Out
Vest – Leather
Pants – Jeans
Pants – Pin Strip Black Formal
Pants – Lulu Lemon
Pants – Lulu Lemon
Pants – Work Out
Pants – Work Out
Pants
Pants
Pants
Shorts
Leggings
Leggings
Skirt – Long / Red
Skirt – Long / Blue
Skirt – Long / Partnered
Skirt – Long / Black
Skirt – Short / Black
Skirt – Short / Grey
Dress – Evening
Dress – Sun
Dress – Cocktail
Suit – Grey Pinstripe
House Coat – Kimono
Socks – 10 Pair
Bathing Suit – Pokka dot one piece
Bathing Suit – Bikini
Bathing Suit – Bikini
Underwear – 10 pairs
Shoes – Flats
Shoes – Converse
Shoes – Heels
Long Coat
***New*** Black Jacket
***New*** Hip Sack – Blue
Grooming
Small Jewelry and Costume Pieces (12 items)
Make Up Palette – Mac Palette
Make Up Brush / Grooming Kit
Hair Straightener
Hair Brush
Hair Clip
Hair Clip
Comb
Toothbrush – Electric
Face Cloth
First Aid Kit
Office and Electronics
Laptop – Macbook
Video Camera – Flip
***Replaced*** Camera – Point and Shoot / Olympus Water Proof Digital
Old Camera Broken- Point and Shoot
***Replaced*** Phone – iPhone
Old Broken Phone – iPhone
Hard Drive – 500 GB
Hard Drive – 100 GB
Thumb Drive 10 GB
Headphone – Roots
***New*** Headphone – Ear Buds
***New*** Headphone Splitter
Battery Charger
***New*** Solar Powered Battery Charger
Notebook – MoleSkine
Filing Portfolio
Hobbies
Book – Non-fiction
Book – Fiction
Bike – Hampton Cruiser
Every Day Items
Keys
Money Clip (Bulldog clip)
***New*** Business Card Holder
Water Bottle – Nalgene
***New*** Reusable Coffee Mug
***New*** Aeropress Coffee Maker
Travel and Repair
Passport
Suit Case – Carry On
Suit Case – Blue, Air Canada, Medium Sized
Suit Case – Day Pack / Hydro pack
***New*** Flight Case -Blue
Sewing Kit
Home Decor
Comforter and Sheet Set
Art – Water Color Painting
Art – Waterhouse Print
***New*** Art – Print
***New*** Art – Print
Resources for this article:
Dave's original post that inspired his later book
The Times' Article About the 100 Thing Challenge
The Zen Habits' blog article